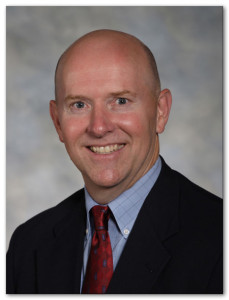 Greg Padgett, a native of Lake County, was a selfless leader who was dedicated to bettering the community.  He always wore a smile and touched the lives of countless individuals. He was a friend, accountant, mentor and volunteer.  He gained the respect of the entire community and gave countless hours of his time to improving it.  He was not an accountant that sat in his office keeping all of his knowledge to himself.  He used his knowledge and shared it to help his clients, friends, local nonprofits and businesses.  He was always visible in the community and always willing to help out with a local need or project within the community.
He graduated in 1980 from Leesburg High School.  He worked and paid his own way through college and in 1988 received his Master of Science in Accounting at the University of Central Florida. He began working in public accounting in 1985 and since was a partner in the public accounting firm, Padgett, Wetz & Young, PA.  He also served as past president of the Leadership Lake County Alumni Association, vice chairman of the board of directors of United Southern Bank, chairman of the Audit Committee of the bank, past president of Leesburg Partnership, Inc., a board member of Kids Central, campaign treasurer for various local politicians, and participated in various fundraisers for many of the nonprofits in our local community.  He also took pride in being known as the Mayor of Okahumpka.
Greg valued family and relationships.  He always made time for them and made them a priority.  He also had a passion for supporting the local 4-H, agricultural and athletic programs in our community.  He felt that they were a good venue for kids to learn about life, hard work, form lasting relationships and a way to keep them busy and out of trouble.
Greg tragically died on January 4, 2014 doing what he loved.  The Greg Padgett Foundation was established by Greg's daughters Cori Padgett Macdonald and Carsen Hames, in an effort to continue the legacy of their father's love and support for his community.
Community Leader Greg Padgett Remembered — The Daily Commercial
Scholarship Foundation Founded in Late Civic Leader's Memory — The Daily Commercial